On Friday 21st February, 2014 Generator returns to Roundhouse Rising for an Artist Development Masterclass Day and The Tipping Point showcase. More details will be announced very soon.
In the meantime, check out information from 2013's event:
Generator presents
The Tipping Point
in association with Roundhouse Rising Festival
at The Roundhouse & The Sage Gateshead
Generator brought an explosion of new music to Roundhouse Rising for the first time. Renowned for fast-tracking the careers of musicians and music businesses across the UK, Generator presented a day of Masterclass sessions at The Roundhouse on Saturday 16th February to bring together high profile music industry guests to discuss issues facing emerging artists. The Roundhouse will then play host to 4 of the best emerging artists in the UK, unearthed through The Tipping Point, Generator's innovative new music blog: Jetta, Death At Sea, The Lake Poets & Eliza and the Bear.
Then on Sunday 17th February, The Tipping Point showcase came to The Sage Gateshead, bringing the best of Roundhouse Rising to the North East for the first time, including Mausi, Eliza and the Bear, Death At Sea & Amy Holford.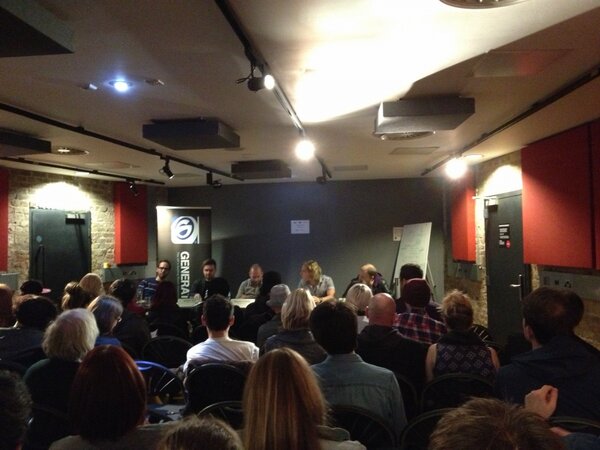 Check out our interactive Storify page for the story of the event, including key quotes from panel sessions such as:
"There's no strategy for sh*t music." Scott Cohen, The Orchard
"It's all about what makes sense and what is true to each artist when it comes to social media." David Emery, Beggars Group
"In terms of music PR, you want someone who will battle for you." Jamie Emsell, Communion Music
You can also read a roundup with some of the key advice here and watch an interview about the event with Digital Music Trends here. Follow the Roundhouse Rising blog for more news from the two week explosion of new music.
---
Saturday 16th February
11am-5.30pm
All Ages
£6 day ticket
Sessions included:
Breaking Through the Noise
Jamie Emsell, Communion Music (Ben Howard, Michael Kiwanuka, Daughter)
Tom Cotton, Amazing Radio (Head of Music)
Guillaume Pichois, Kayak Music (Manager – Ghostpoet, Lorca)
Chair: Keith Harris, PPL / Music Tank
Marketing Your Music in the Digital Age
Darren Hemmings, Motive Unknown (Alt-J, Local Natives, Chapel Club)
Nikke Osterback, Atlantic Records / Saari Ltd. (Plan B, Lykke Li, Frightened Rabbit)
Alistair Tant, Essential Music & Marketing (The Prodigy, UNKLE, James Blake)
Plus suprise guest David Emery, Beggars Group
Chair: Stephen O'Reilly, Mobile Roadie
Labels & Publishers – A New Approach
Ed Horrox, 4AD (Bon Iver, St. Vincent, The National, Grimes)
Ryan Farley, Warner/Chappell Music (Starsmith, Clock Opera, Madeon)
Scott Cohen, The Orchard (Co-Founder / Artist Manager)
Chair: Ben Jones, Musicians' Union
Plus
Networking Room
An additional breakout room was available throughout the day and during breaks for guests to network. Attendees met likeminded musicians, music businesses and representatives from Key Trade Associations: MPA / PRS for Music / PPL / BPI / Musicians' Union / AIM / BASCA / MMF / The FAC / PRS for Music Foundation / Musicians Benevolent Fund
---
Saturday 16th February
The Roundhouse (Studio Theatre)
featuring
Jetta
Death At Sea
The Lake Poets
Eliza and the Bear
Doors: 7.30pm

---
in association with Roundhouse Rising Festival
at The Sage Gateshead (Hall Two)
Sunday 17th February
featuring
Mausi
Eliza and the Bear
Death At Sea
Amy Holford
Doors: 7.30pm